Financial Marketing Strategies
Markets for Financial Instruments
Financial markets encompass any location or system that allows buyers and sellers to trade financial instruments such as bonds, equities, various international currencies, and derivatives. Financial markets facilitate the interaction of those in need of capital and those with money to invest. The Financial markets enable participants to transfer risk (generally through derivatives) and promote commerce and raise capital.
Although regulations and best practices guide financial market transactions, they are not without risk. The OCC provides guidance and resources to national banks participating in financial market activities.
The 5 Most Effective Financial Services Marketing Strategies
Self-Service and Customer Outreach Digitization
The Internet of Things
Big Data and Automation
Online Storytelling on the Internet
These five financial services marketing strategies are an excellent place to start marketing design for many banks and financial institutions.
1. Customer Contact
Customer outreach is one of the essential marketing strategies for banks and financial institutions. It is, however, one of the most effective. Customer outreach is simply reaching out to customers to meet existing education, awareness, and assistance needs. It scales to a small organization through free consultations and webinars and to a larger organization through financial education such as debt management programs or school-based financial education
2. Digitization and Self-Service
Whereas previous generations and baby boomers preferred receiving products from sales representatives who could advise them and set up personalized (or not) accounts, millennials and Generation Z frequently choose to do everything themselves with as little contact with human representatives as possible.
Establishing and promoting digitized financial products and customer service or experience portals that allow customers to sign up for services online, change products and services online, and view their information without visiting a branch is an effective and increasingly necessary trend for financial organizations. However, it is not a universal marketing strategy because you may not sell only products or Services.
3. Social Media
Eighty-one per cent of the US population has a social media account, and many spend up to 4-5 hours daily on social media. Your intelligent and consistent use of one or more social media platforms is an essential financial marketing strategy that you cannot afford to overlook. Social media platforms remain used by Millennials, Generation Z, and even Baby Boomers to connect with brands, learn from peers, and keep up with current events and news. Maintaining a consistent presence on one or more sites with a strategy to provide value to followers will aid in developing brand trust, creating marketing opportunities, and expanding your customer base.
4. Big Data and Automation
Most financial institutions have more data than they know what to do with, but this is changing rapidly. Customer experience platforms and automation tools create it easier to use and apply data as part of your financial services marketing strategy.
Big data, for example, can tell you who is saving up for a large purchase and is most likely to require pre-approval for a loan; it can help you identify and offer services before or after they are needed. It can help you target specific customers for additional customer service or digital financial education, and it can help you cut down on required customer service.
5. Online Storytelling
Storytelling remains one of the best effective marketing mediums, whether on social media, video, advertisements, or cross-channel platforms that extend into the real world. In this case, your marketing strategy should include telling a story. That piques the viewer's interest and elicits emotion to excite and move the viewer. Your goal here is to create relatable and shareable content that can educate, entertain. Or help the reader somehow – ideally, all three simultaneously.
Allstate's award-winning Worth Telling digital storytelling marketing campaign focuses on effectively. The stories of three to eight customers making a change. Allstate not simply promotes what their customers are doing. But also dries interest across all marketing channels, building trust by sharing real people and stories. In addition, promoting the products and services discussed in the videos builds customer relationships and adds a human touch.
Conclusion:
Whatever your financial organization does, digital media opens up a world of creative marketing ideas, tactics, and strategies. You should not, however, concentrate on just one or try to incorporate everything. Instead, develop a broader financial marketing strategy in which each component adds to. And builds on the others, adding value to your organization.
Also read : Online French Lessons
Related posts
Minecraft 1.19: The Ultimate Update for Enthusiastic Gamers
Minecraft 1.19: The Ultimate Update for Enthusiastic Gamers Are you a passionate gamer looking for the next big update in…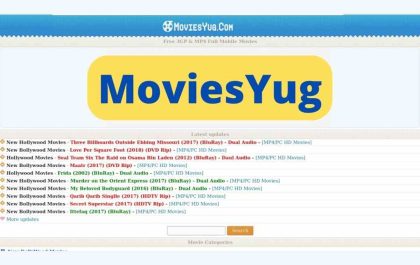 Moviesyug.net: Unlock a World of Entertainment at Your Fingertips
Moviesyug.net The entertainment world has undergone a remarkable transformation in today's digital age. Gone are when you had to wait…